15.09.22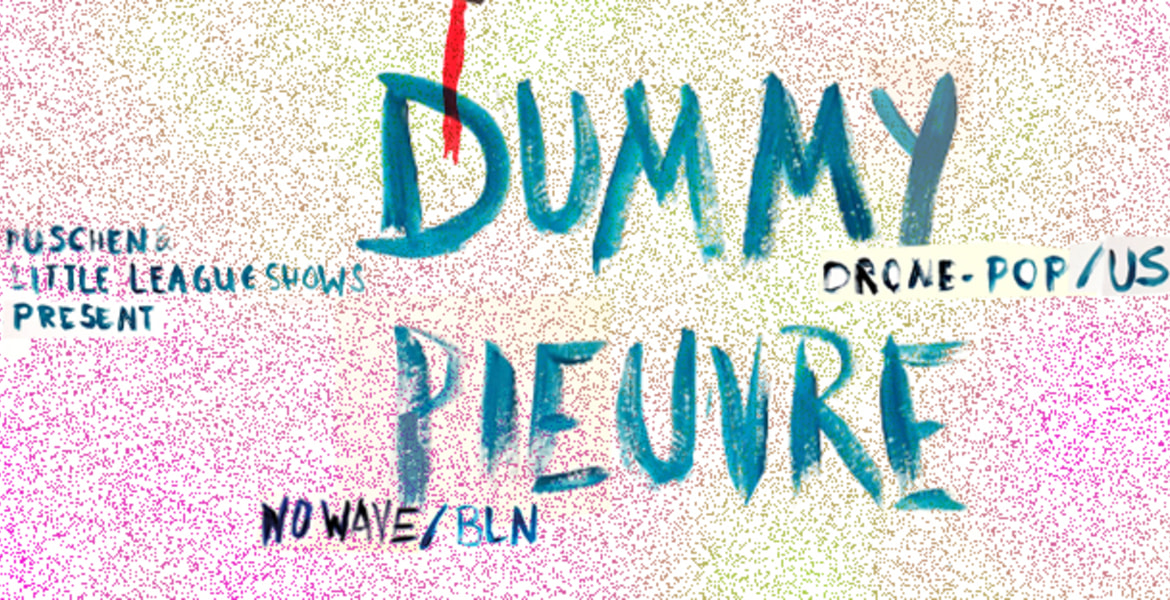 Tickets für
DUMMY (us) & PIEUVRE (bln)

drone-pop/indie/..., us X post-punk/indie, bln 15.09.22 in Berlin, Schokoladen
Tickets – DUMMY (us) & PIEUVRE (bln)
Berlin
---
Informationen
Little League Shows & Puschen prsnt:
DUMMY / drone-pop/indie/..., us, trouble in mind recs
notdummy.bandcamp.com /// instagram.com/notdummy/
+ PIEUVRE / post-punk/indie, bln
pieuvres.bandcamp.com / instagram.com/pieuvre_band
at Schokoladen. doors 19 uhr, concert starts 20 uhr. tickets at the doors and in pre-sale --> https://vvk.link/25jpo1c
aftershow djs tba.
- - -
Los Angeles band DUMMY refuses to slow down. After releasing two cassette EP's in 2020 (on Popwig and Born Yesterday respectively), Dummy's debut full-length album arrives via Chicago's Trouble in Mind Records. Employing pummeling guitars and celestial ambience within the same breath, the band folds a myriad of reference points into their drone-pop style. Influence from '60s melodicism and '90s UK noise pop can be found woven in with inspiration from spiritual jazz, Japanese new age, and Italian minimalism.
Dummy dodges the brooding, dark, dramatic tropes of contemporary "artistic" music often found in punk, experimental, and electronic, instead insisting on joyous and euphoric sonic palettes. They refuse to be artistically stagnant, continuously shifting their approach to writing across 12 tracks. Shaped by performances around Los Angeles in 2019, songs like "Daffodils" and "Fissured Ceramics" feature relentless driving energy and ample psychedelic noise. Elsewhere, Dummy counterbalances the aggression with meditative synthscapes focused on sound design and studio experimentation, like on the motorik "X-Static Blanket". Finally, centerpiece "H.V.A.C." and the album's final track, "Atonal Poem", seek to synthesize these two poles, offering multi-part journeys through uncharted sonic territory.
In contrast to blissed-out instrumentation, Dummy's sardonic lyricism examines "the burden of modern life, consumerism, environmental collapse, alienation, and other anxieties born out of living in this absurd moment in history". Interior design, marine pollution, the psychology of commercial architecture, and nuclear testing are all featured subjects. Dummy's restless creativity keeps them moving ever-forward, continuously challenging themselves and pushing their sound into exciting and exhilarating places. This is – as the album title suggests – "Mandatory Enjoyment".
RIYL: Silver Apples, Laraaji, Velvet Underground, Stereolab, Cluster, Antena, My Bloody Valentine, Haruomi Hosono, Carl Sagan, Yo La Tengo, Finis Africae, Midori Takada
- - -
PIEUVRE is a new sensation from the bubbly Berlin underground, born magically by coincidences and featuring members of indie darlings Brabrabra, the Shna, and King Kuiper. Expect catchy post-punk hymns, raw guitars and an irresistable rhythm section.
- - -
Gefördert von: Der Beauftragten der Bundesregierung für Kultur und Medien ("BKM") und der Initiative Musik.