24.11.23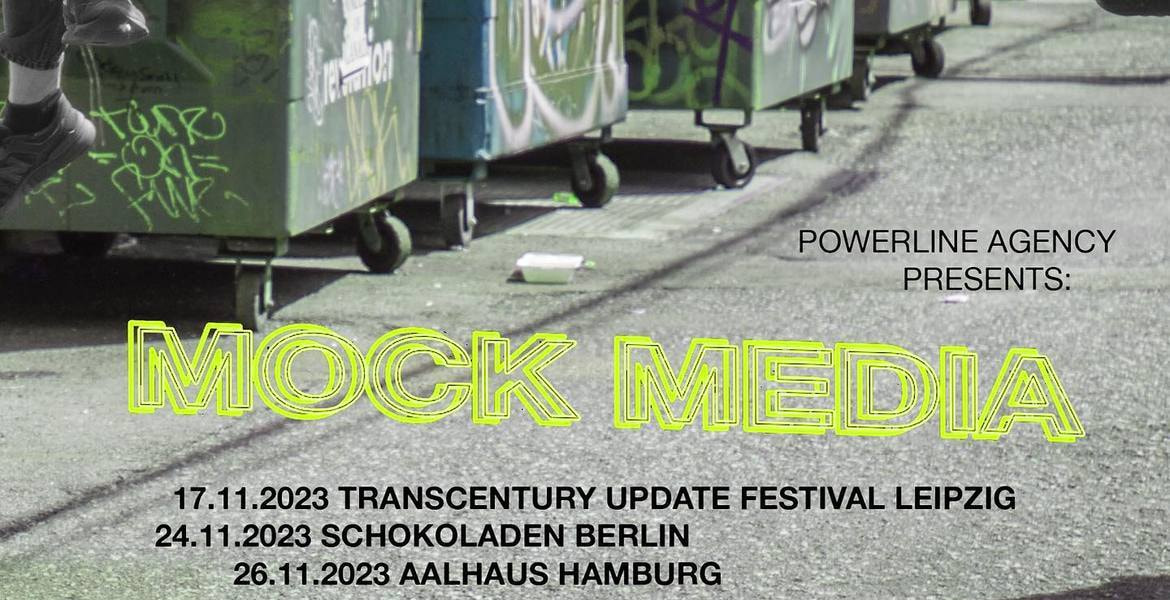 (powerline & little league shows prsnt:)
Tickets für
MOCK MEDIA (post-punk, can)

& CLICHÉE (post-punk, bln) 24.11.23 in Berlin, Schokoladen
Tickets – MOCK MEDIA (post-punk, can)
Berlin
---
Informationen
powerline & little league shows prsnt:
MOCK MEDIA / post-punk, can, meat machine recs,
members of Crack Cloud, N0V3L, Pottery, Painted Fruits
mockmedia.bandcamp.com/ /// instagram.com/mockmediaband/
+ CLICHÉE / post-punk, bln
clichee.bandcamp.com /// www.instagram.com/clich.ee
at Schokoladen. doors 19 uhr, concert starts 20 uhr. pre-sale tickets available --> https://vvk.link/2unlynk
aftershow: tear pop to shreds w/ dj cool cat tommy t (drums in tanning bats, big eater, uralt...) -> world wide post-punk mutant-disco wave funk kraut indie tunes ...

- - -
MOCK MEDIA, Canada's new supergroup, contains members: Evan Aasen, Garnet Aronyk Muhammad, Austin Boylan and Bennett Smith. Mock Media originates in Vernon, British Columbia, a small farming town surrounded by blue lakes and majestic mountain ranges. Such wholesome beginnings naturally sparked a heady wanderlust and DIY-spirit within its founding members.
Mock Media's debut LP Mock Media II – out November 17 on Meat Machine captures this firebrand four piece's head-on plunge into enthralling existential contradictions: songs that explore the darkest corners of humanity, yet come out at the other end with the unwavering joy that marked their genesis. It's an album of sneaky eclecticism: the high-wired punk rock stylings serve as Mock Media's framework to clad their agog explorations into pop, electronic and world folk music.
- - -
CLICHÉE is a Berlin-based post-punk band consisting of the three musicians Deborah, Hanna, and Maryna. The band conjures up the fragile beauty of dark wave sounds, moving between shoegaze, dark wave, and post-punk.
Deborah Morgenstern (Fog Drive/Schanell/Vora) founded the band in 2019 with her longtime friend Hanna Heyne. Comprising drums, guitar, and vocals, the two musicians play as a duo from then on.During this time, the EP "Clichée" was created, released in 2022. It was entirely recorded on an 8-track cassette recorder and is available only on cassette and digitally.
In 2023, Maryna Russo joins on bass and guitar (Hit/Jawbones/LeVent), adding more expansiveness and texture to the band's sound. With their music, the three musicians channel their frustration with poorly fitting love relationships and certain childhood traumas, composing songs with intensity and depth.
The sound resonates with the early records of Siouxsie and the Banshees or the Cocteau Twins. Their pieces are intense and impulsive, and their stage presence is both energetic and sensitive. As equal counterparts, they immerse themselves in their music, collectively creating a tangible atmosphere.