11.12.23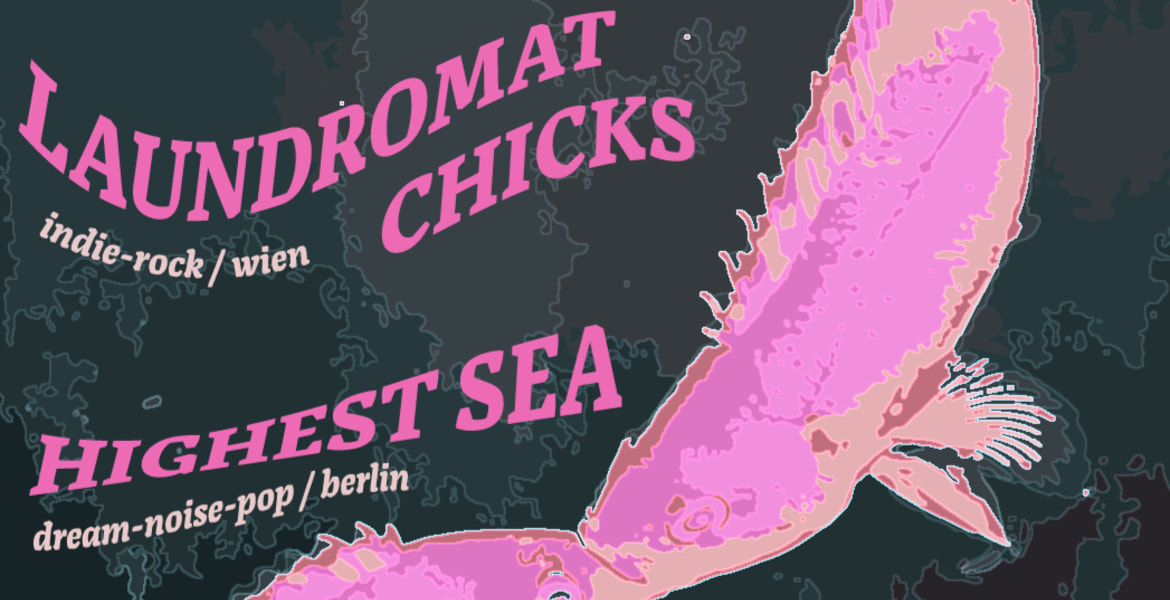 (puschen & little league shows prsnt:)
Tickets für
LAUNDROMAT CHICKS (indie, wien, siluh recs)

& HIGHEST SEA (dream-pop, bln) 11.12.23 in Berlin, Schokoladen
Tickets – LAUNDROMAT CHICKS (indie, wien, siluh recs)
Berlin
---
Informationen
puschen & little league shows prsnt:

LAUNDROMAT CHICKS / indie, wien, siluh recs
laundromatchicks.bandcamp.com / instagram.com/laundromatchicks

& HIGHEST SEA / dream-pop/indie, bln
highestsea.bandcamp.com / instagram.com/highestsea

+ DJ future sailor (my little underground / some kind of happening / wddim ...)

at Schokoladen. doors 19 uhr, concert starts 20 uhr. tickets at the doors and in pre-sale --> https://vvk.link/2ubl08g

---
After their debut "Trouble", LAUNDROMAT CHICKS present a new album that touches on much quieter tones. band mastermind Tobias Hammermüller produced with Martin Rupp (Jansky), has "Lightning Trails", which become a folky manifesto for the quiet nuances that we desperately need. For two or three seconds we hear the sound of the sea. This is followed by two bars of bass with some sort of drums. But what happens next is not easily described: It's a bit like suddenly falling into a hole in the middle of the street. After a moment of surprise we open our eyes and find ourselves somewhere else. We are now in the maelstrom of the Austrian indie band Laundromat Chicks. Beaming hasn't been invented yet, but what the record Lightning Trails puts down comes pretty close.
The first album Trouble, with which the band made a name for itself in 2021, still hid music and vocals behind all kinds of fuzz filters and slap-back delays. Lightning Trails now dares to take a step back - away from computers and drum machines and towards everything that sounds. Together with Martin Rupp (Jansky) Tobias Hammermüller recorded seven songs - In a small house in Lower Austria, which they visit regularly, Tobi's song sketches are turned into small works of art . Detuned guitars, gentle piano scraps, fuzzy sounds. It's not grand gestures that make this album greater than the sum of its parts.
Lightning Trails will be the album that sends the band on a journey, that's for sure. If you can still feel a little, you'll notice that songs like Sunday Mystery or Never Return are knitted from such fine fabrics, you almost forgot they existed. They're songs that are every bit the equal of Belle & Sebastian's early work, songs that we need more than ever in this age of domesticated egomania. Indie has always somehow invoked the superpower of nonattendance, making the exaltation of the normal the chosen stylistic vehicle. Following this quiet-is-the-new-loud dogma, Lightning Trails nonchalantly escapes contemporary fashion trends and acts as a counterdraft of a hucksterish pop of the present. And this despite the fact that the band itself is part of an increasingly large Viennese post-punk scene that grows and grows under the radar of media coverage.
Lightning Trails takes us tenderly by the hand and abducts us in a way that has become a rarity nowadays. In the songs Tobias Hammermüller creates surreal worlds, for which the 19 year old is inspired by old movies to interweave them with stories from the suburb of St. Pölten. Thus his lyrical self tells of the way to the supermarket, where someone is wearing exactly the same shoes as he is, only cooler. He sings: "Do you wanna be in my band?" In reality, however, a band already exists. Lena Pöttinger, Felix Schnabl and Theresa Strohmer complete Laundromat Chicks. Theresa Strohmer is also the one who creates some surprise moments on the record. When she sings the lines "You make me seasick / Just hanging around" on the aforementioned Never Return, one no longer knows where up and down is. A magic that resembles the joint tracks of Kings of Convenience and Feist.
Lightning Trails is a masterpiece of musicality and restraint at the same time, an ode to dreaminess and thoughtfulness in times of turmoil and clashing ideologies. It is somehow an invitation to climb out the window to view an unhinged world from a hidden ledge. Similar to the afterglow of a flash on the retina, in the near distance. (Paul Buschnegg)

---
HIGHEST SEA takes us on a journey under the burning sun and into the night, carried on a wave of melancholic and solar indie rock. Behind the name is songwriter Leïla Zanzibar, whose raw and mystical vocals tell bewitching stories about haunted hearts guided by the call of the sea. Zanzibar's main influences range from The Velvet Underground to Bob Dylan and Jeff Buckley, with Beach House or Atlas Sound making their marks along the way. Started as a solo project, Highest Sea has evolved over the years from a duo into a four piece, opening for bands such as Sasami, Lala Lala or Hand Habits and performing in Paris (Supersonic), Vienna (Porgy & Bess), Prague and all over Germany.Zanzibar's debut EP Haunted Hearts was released by Späti Palace in 2017. In 2019 Duchess Box Records (Laura Lee & The Jettes, Shybits, Gurr) released the single I'm on the Moon as well as her second EP Haven, produced by Joe Kelly (Mother of the Unicorn). Since the release of her last single Dreaming Awake (2020), Zanzibar has been focusing on songwriting and recording her debut album with her new line-up.