22.09.23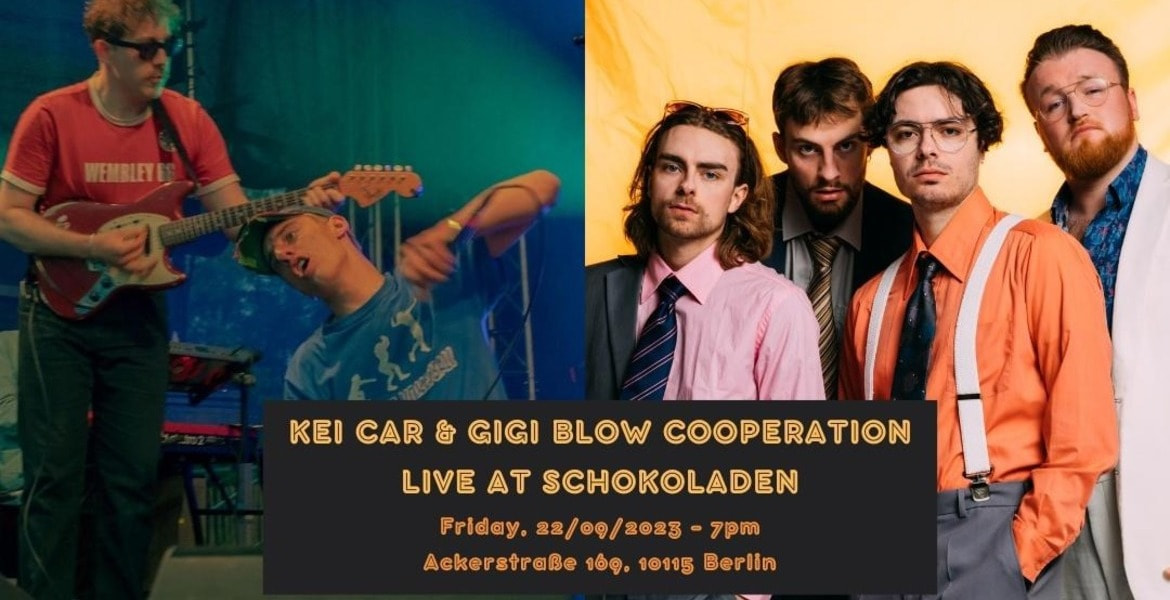 ready steady go prsnts:
Tickets für
KEI CAR (psych funk)

& GIGI BLOW COOPERATION (indie/psych) 22.09.23 in Berlin, Schokoladen
Tickets – KEI CAR (psych funk)
Berlin
---
Informationen
live:
KEI CAR --> psych funk outfit from Berlin. 7 out of 10 real estate agents listen to KEI CAR during their morning routine.
instagram.com/keicarband/ /// keicarband.bandcamp.com
& GIGI BLOW COOPERATION --> psychedelic indie rock action bänd bambam
instagram.com/gigiblowcooperation/ /// gigiblowcooperation.bandcamp.com
im Schokoladen. doors 19h, konzertbeginn 20h, tickets an der tür oder im vvk --> https://vvk.link/2shfqxc
after 22h: DJs Eggs Delicious & Thiago
heavy 1970s, funk & afro on tasty vinyl
facebook.com/djeggsdelicious
---
KEI CAR are four Berliners united by a long-standing friendship creating a sound that swings back and forth between psychedelic textures and raw funkiness, to ultimately be nothing but irresistibly catchy pop.
GIGI BLOW is a rising Action rock/psypop/alternative hip hop band from Berlin. They started with covering 60's songs but nowadays they have their own tracks, but the genre is hard to define. We play songs that go from 60's to 70's but also Some jazzy fusion tunes. If you wanna have distorted guitar sounds Gigi blow will serve u right, if u wanna hear smooth Rhodes or a funky organ, Gigi blow can do all the work. If you wanna hear freaky synth or our star vocalist Francois 'ermann book us now!