31.01.23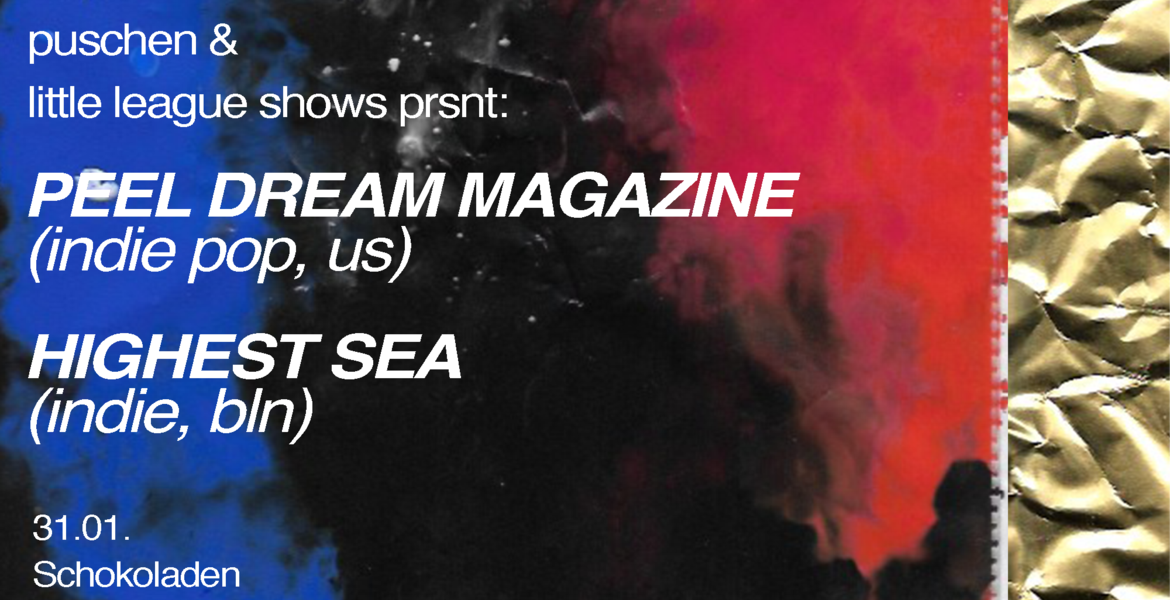 puschen & little league shows prsnt:
Tickets für
PEEL DREAM MAGAZINE & HIGHEST SEA

indie/dream-pop/shoegaze, us X indie/lofi pop, bln 31.01.23 in Berlin, Schokoladen
Tickets – PEEL DREAM MAGAZINE & HIGHEST SEA
Berlin
---
Informationen
puschen & little league shows prsnt:
PEEL DREAM MAGAZINE /// indie/dream-pop, us, tough love recs
peeldreammagazine.bandcamp.com/ /// instagram.com/peeldreammagazine/
& HIGHEST SEA /// indie/lofi-pop, bln
highestsea.bandcamp.com/ /// instagram.com/highestsea/
at Schokoladen. doors 19 uhr, concert starts 20 uhr. tickets at the doors and in pre-sale --> https://vvk.link/2fag4i8
---
"On his second PEEL DREAM MAGAZINE record, Isn't Anything-era My Bloody Valentine dream-pop crushes hard on effervescent Stereolab melodies in a satisfyingly smooshed pastiche" NPR
"You can hear shoegaze and classic Velvet Underground-style zone-outs and krautrock-indebted art-pop all colliding in the band's songs" Stereogum
The follow-up to 2020's breakthrough album Agitprop Alterna, Pad presents a major sonic evolution for the 34 year old songwriter, who moved to Los Angeles amid the cataclysm that same year. Seventies era drum machines and synthesizers remain here, but he's traded his buzzing offset guitar for a nylon-string, opting for a gentle baroque pop sound steeped in Bossa, folk, and its own eerie mysticism. Alongside mid century touchstones like Burt Bacharach, Stevens draws on the cultishly-beloved tinkerings of late-1960s Beach Boys, offering a surreal melange of vintage organs and found percussion, as well as Harry Nilsson's 1970 song tapestry The Point!.
And similar to The Point!, Pad is a conceptual work reflecting on isolation and identity. The album tells a bedtime story in which Stevens' bandmates kick him out of Peel Dream Magazine – banished and now without purpose, he sets out on a journey to rejoin the band. Misadventures ensue, such as when he joins a cult on "Self Actualization Center", featuring friend and oft collaborator Winter. But this is also music that's purely pleasurable in its own context, as our protagonist explores the boundaries of easy-listening with discordant textures, and bleeps and bloops that tickle. Songs like "Pictionary" chime delicately with sinister intent, evoking a palette that is outright Mod. Pad also recalls the space age bachelor stylings of Stereolab and The High Llamas, with an occult twist that borrows from Tropicalia legends Os Mutantes.
While Pad sounds beautiful, there's a certain darkness to it as well. Stevens is addressing our general ambivalence toward the future of everything we know, informed partly by his time in New York at the onset of the pandemic. On "Hiding Out", he laments: Wander past the Vernon Mall, and up to Queensboro Bridge. Made to feel I'm two feet small, but that's no way to live. Ultimately, Stevens is embracing a first-thought-best-thought approach, leaning into the fantastical elements of his own life story. Pad is as archetypal as it is strange, blurring the very lines that it asks to be defined by. Art imitates life, but life imitates art too – and the results can sometimes be unpredictable.
---
HIGHEST SEA takes us on a journey under the burning sun and into the night, carried on a wave of melancholic and solar indie rock. Behind the name is songwriter Leïla Zanzibar, whose raw and mystical vocals tell bewitching stories about haunted hearts guided by the call of the sea. Zanzibar's main influences range from The Velvet Underground to Bob Dylan and Jeff Buckley, with Beach House or Atlas Sound making their marks along the way. Started as a solo project, Highest Sea has evolved over the years from a duo into a four piece, opening for bands such as Sasami, Lala Lala or Hand Habits and performing in Paris (Supersonic), Vienna (Porgy & Bess), Prague and all over Germany.

Zanzibar's debut EP Haunted Hearts was released by Späti Palace in 2017. In 2019 Duchess Box Records (Laura Lee & The Jettes, Shybits, Gurr) released the single I'm on the Moon as well as her second EP Haven, produced by Joe Kelly (Mother of the Unicorn). Since the release of her last single Dreaming Awake (2020), Zanzibar has been focusing on songwriting for her debut album and forming a new line-up.
- - -
Gefördert von: Der Beauftragten der Bundesregierung für Kultur und Medien ("BKM") und der Initiative Musik.