05.01.23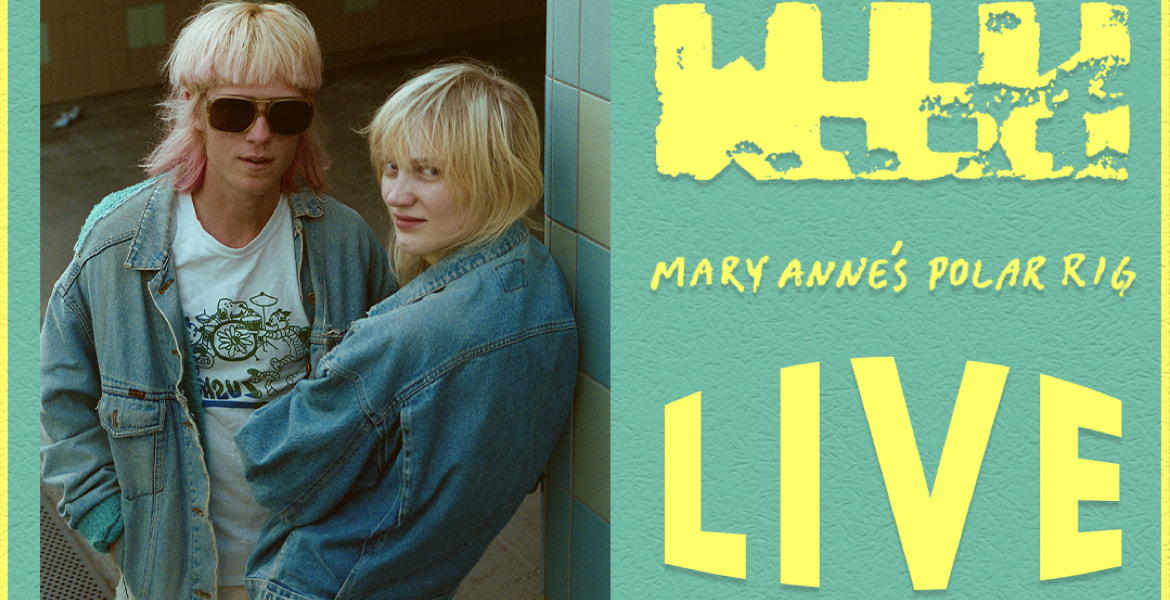 Tickets für
MARY ANNE'S POLAR RIG & BEAT DEGENERATION

indie rock, swe X power pop, bln 05.01.23 in Berlin, Schokoladen
Tickets – MARY ANNE'S POLAR RIG & BEAT DEGENERATION
Berlin
---
Informationen
dq agency & Little League Shows present:
Mary Anne's Polar Rig
Beat Degeneration
Mary Anne's Polar Rig is a guitar/producer duo coming straight from the underground rock scene of Malmö, Sweden. With a sound heavily influenced by the 90's scene as well as the new wave of female fronted rock, they play a sort of "fuzzed out" pop where the dynamic vocals together with the noisy jangly guitars are in focus.
MAPR take their name from a mining-station (now hotel) on the Arctic island of Svalbard, an identification that implies a little bit of toughness, an ability to take a few knocks and keep on rolling. You can certainly hear something of that in their sound – the Malmö duo, Malin Hofvander and Harald Ingvarsson, serve up rough-and-tumble rock and roll that can handle anything the world has to throw at it.
Mary Anne's Polar Rig started off life in Malmö, as a fulfilment of Hofvander's teenage dream of being in a rock and roll band. Hofvander and Ingvarsson have long been fixtures of the city's indie music scene, with Hofvander having a spell running indie label Kollektivet Records and both working in local music hub Studio Möllan. Initially a four-piece, they honed their sawn-off-shotgun punk, pop and rock on the road, touring the small clubs of Sweden and Copenhagen, and eventually collected enough songs to lay an album's worth down on tape, which became their debut album, Makes You Happy. Makes You Happy was a vision of a band as a force of nature - a musical storm that didn't hang around to see the mess it made. The songs were short, sharp punk-pop rock and roll, often rattling through from start to finish in under two minutes. The album got physical releases in the US and Japan, on cassette and CD respectively, saw them chosen to play Berlin as part of the Swedish music showcase Die Neuen Schweden, and picked up by Catalan rock-band Mourn to open for them in Germany.
After Makes You Happy, the band recalibrated, going from a four-piece to a two-piece, signed with Stockholm label Rama Lama Records (Kindsight, Melby, Chez Ali etc.) and swam into more experimental waters for the follow-up that is expected in the spring of 2023. The sound is more complex, mature and heavy. Here, they give the songs space and time to develop and grow. Melodies and sharp refrains strike through in places like lightning bolts – it's still a blast to listen to – but the songwriting takes stranger turns than before. Some songs skid and roll chaotically, like an out-of-control dirt bike, and others are carefully nursed and layered into something crashing and grand, like towering prog pyramids. The band's restlessness has moved them onto a whole new artistic plane, and taken their music onto a level beyond anything they've done before.
—-
Beat Degeneration is a Power Pop band based in Berlin. After a few tours in Europe and America in the pre-covid times, they're finally making their come back. They have released two albums with different international labels (Wiener Records, Jigsaw Records) and they're about to release their third one soon!