24.10.22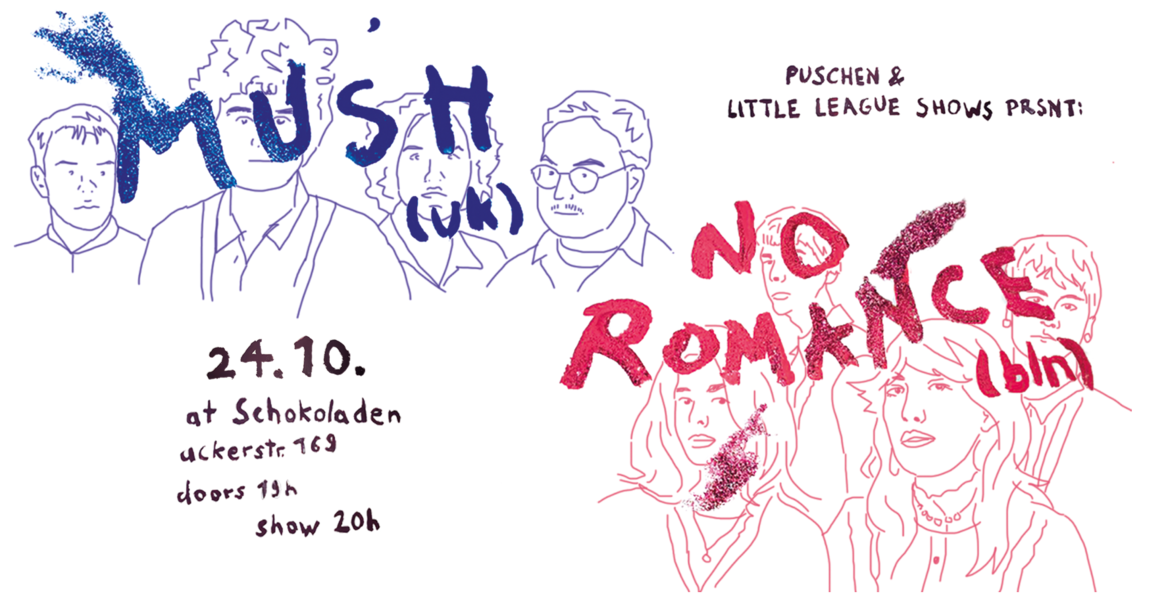 Tickets für
MUSH (uk) + NO ROMANCE (bln)

indie/post-punk/art-rock, uk X synthy post-punk/dream-pop, bln 24.10.22 in Berlin, Schokoladen
Tickets – MUSH (uk) + NO ROMANCE (bln)
Berlin
---
Informationen
little league shows & puschen prsnt:
MUSH /// art rock / indie / post-punk, uk
mushband.bandcamp.com/ /// instagram.com/hellomushband/
+ NO ROMANCE /// synth post-punk dream-pop, bln
noromancepls.bandcamp.com /// instagram.com/no_romance_pls/
at Schokoladen. doors 19 uhr, concert starts 20 uhr. tickets at the doors or in pre-sale --> https://vvk.link/26id3g0
- - -
Leeds art-rock group MUSH (Dan Hyndman - vocals/guitar, Phil Porter - drums, Nick Grant - bass, Myles Kirk - guitar) are set to return with the album Down Tools on July 8, 2022, via Memphis Industries. The new record marks the prolific band's third album in as many years, following hype-building early singles "Alternative Facts" and "Gig Economy", 2020's debut LP 3D Routine and 2021's acclaimed Lines Redacted, which pushed their sound further finding tips at BBC 6 Music, Pitchfork, DIY, Sunday Times, Quietus and more with Uncut declaring them "kindred spirits to Wand and King Gizzard & The Lizard Wizard, two other bands prolifically honing their sound and approach, steadily developing their voice."
Mush formed in 2015, its first iteration being as a five-piece noise band with three guitars. Mush's MO and sound have changed a lot since then as the band continues to grow and hone their sound. On 3D Routine the sound centered around the interweaving of duelling guitars of Steven Tyson and Hyndman. Since Tyson's death, Hyndman has contributed all of the guitars for Lines Redacted and Down Tools. Recent recruit, Myles Kirk is now on second guitar duties ushering another new era for the band, joining Dan, Nick and Phil.

 Down Tools then sees Mush idiosyncratically ping-pong from finger-picked looseners to noise-rock bangers to brilliantly entertaining effect, avoiding post-punk saturation with an easy style and wit.
- - -
NO ROMANE is a poppy exploration of hedonistic melodrama constructed by Berlin-based members Lucy Holliday, Isaac Hickey, Hannah Gonzales, and Joel Thomas. With their energised, fun live show, and synthy gothic edge, No Romance seeks to highlight the ugly parts of our subconscious and turn them into glistening pop songs. Their set, which they recently toured in Germany and Iceland, experiments with genre fluidity, fusing heavy with dancy; pop with darkness. The group manage to touch on a wide variety of references and sonic worlds, whilst staying true to their cohesive, driving sound.
- - -
Gefördert von: Der Beauftragten der Bundesregierung für Kultur und Medien ("BKM") und der Initiative Musik.