22.09.22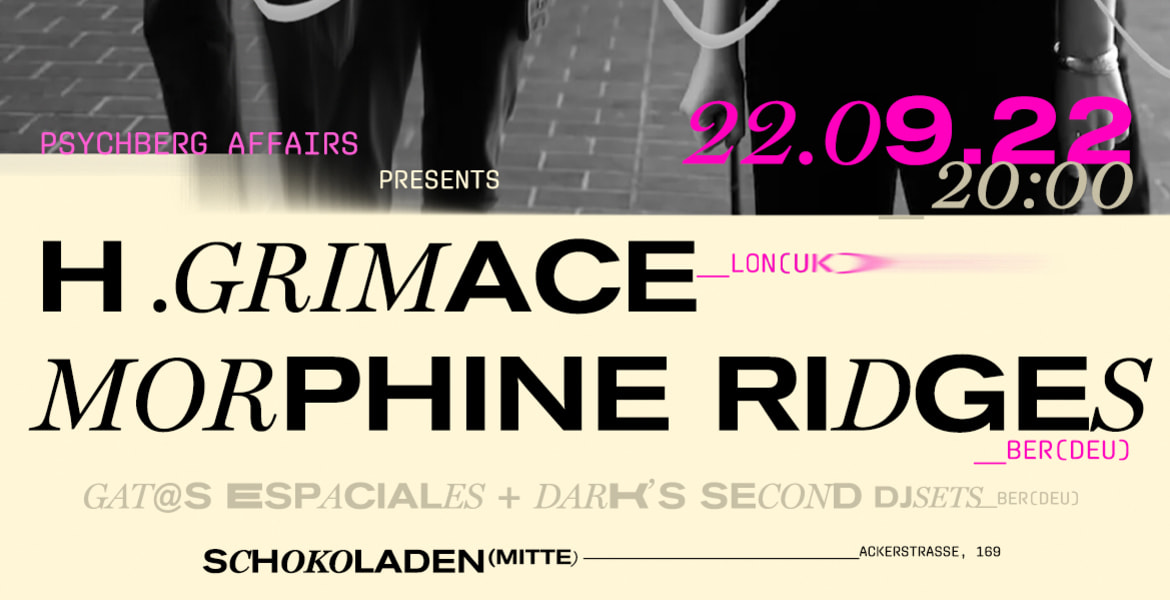 Tickets für
H.Grimace (ldn, uk) + Morphine Ridges (bln)

22.09.22 in Berlin, Schokoladen
Tickets – H.Grimace (ldn, uk) + Morphine Ridges (bln)
Berlin
---
Informationen
Psychberg Affairs is very proud once again to present H.Grimace from London with their female force and our local band for the night, Morphine Ridges aka Beyond the Breath of Grace.


> H.GRIMACE <
Intent on creating an ever-changing, varied cacophony of noise, H.Grimace are a London-based alternative rock outfit known for lyrical social commentary that harkens back to PJ HARVEY's Rid of Me era and the fuzzy, distorted noir-pop/rock akin to modern acts such as SAVAGES. Made up of Hannah Gledhill (vocals/guitar), Marcus Browne (guitar), Syde Corin Johnson (bass), and Diogo Gomes (drums), their sound is characterized by gloomy, distorted soundscapes consisting of overdriven, reverberated guitar hooks, low-key vocals, discordant melodies, and tumultuous drum work anchored in an invigorating post-punk sound palette. The group was founded in 2011, when Gledhill and Preston met while working in an East End bakery. Eventually they formed a cohesive ensemble and after some time brainstorming song ideas and rehearsing extensively, the group began to put out various recordings. Their debut self-titled release dropped in 2012 on 10" vinyl, with the Cavepainter Art single following in 2014. They also collaborated with indie-psych outfit Joey Fourr on the 2013 split EP Nothing Beats Reality. However, the effort that began to attract serious attention was the six-track cassette EP I Am Material in early 2015. Due to the fact that the tape was limited to 100 copies and was only available from the band itself; they sold out quickly and buzz about the release began to generate online. Alongside this, the quartet performed all over the city, gradually yet surely expanding interest among alternative music fans. Many critics drew comparisons to the abrasive nature of modern post-punk revivalists , as well as the lush textures of and the noisy psychedelic craft of '90s noise-rock experts . In 2016, H.Grimace put out the Royal Hush/Excavations single in celebration of signing with London indie label . Later that year, they announced the release of their debut full-length, Self-Architect. The album arrived in early 2017 and featured poet and artist Vivienne Griffin on the track "2.1 Woman."


Bandcamp:
https://h-grimace.bandcamp.com/


Interview on Weird Fishes Radio:
https://www.mixcloud.com/.../cats-morphine-w-hgrimace.../

> Morphine Gridges <
New liaison led by Andreas Miranda blending dark country riffs and lap steel guitar sliding through the cracks of shadowy vocals. Silent Ballads for none to curse and none to pray. A new course among old roads. Fading kerosine lamp. Moonlight through the side window. Something remains awake.

Projects:
https://andreasmiranda.com/projects/

Bandcamp as "Beyond the Breath of Grace":
https://beyondthebreathofgrace.bandcamp.com/

------------------------------
Dj Sets by:
> Gat@s Espaciales < only Jorgo
> Dark´s Second <
> Eye the Kat <

---
Gefördert von: Der Beauftragten der Bundesregierung für Kultur und Medien ("BKM") und der Initiative Musik.
https://www.facebook.com/events/479096170890017/