31.08.22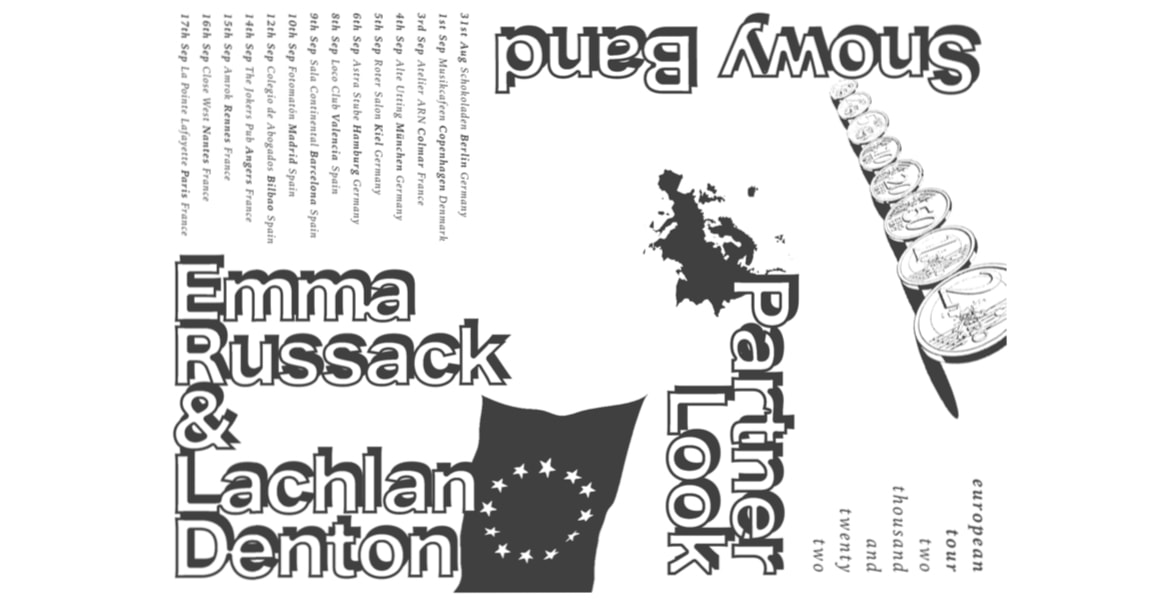 Tickets für
Partner Look / Snowy Band / Emma Russack & Lachlan Denton

3x indie-pop from australia. 31.08.22 in Berlin, Schokoladen
Tickets zu Partner Look / Snowy Band / Emma Russack & Lachlan Denton
Berlin
---
Informationen
little league shows & späti palace prsnt:
SNOWY BAND +
PARTNER LOOK +
EMMA RUSSACK & LACHLAN DENTON
Hailing from Melbourne, Australia, Snowy Band, Partner Look, and Emma Russack & Lachlan Denton spent 2021 releasing a string of LP's and heading out on national tours. Now, the close-knit group of friends and Australian label-mates (Spunk / Osborne Again) have grabbed their first opportunity to leave the country and bring their music to Europe. Distinct but complementary to each other's unique takes on guitar pop, the long-time collaborators and friends will all be sharing the stage in Germany, Spain, France and Denmark throughout August/September 2022.
at Schokoladen. doors 7pm, concert starts 8pm on time! tickets at the doors and in pre-sale --> https://vvk.link/27zvyq8
SNOWY BANDs 's music is decidedly difficult to categorize: Pop tropes certainly play into Halliwell's songwriting style, but they're not a pop band. Rather, they're some kind of jazz-inflected experimental indie folk chameleon.
snowynasdaq.bandcamp.com /// instagram.com/snowy___________/
PARTNER LOOK: Released February 4, 2022 via Chicago-based indie label Trouble in Mind Records, Partner Look's debut album is an expansive twelve-track set of bright, emotive, and poppy indie rock tunes: An impressively cohesive, melodic, beat-driven introduction to the four-piece of German sisters Ambrin (Cool Sounds) and Anila Hasnain (Studio Magic), as well as their partners Dainis Lacey (Cool Sounds) and Lachlan Denton (The Ocean Party).
partnerlook.bandcamp.com /// instagram.com/_partnerlook_/
EMMA RUSSACK & LACHLAN DENTON made a low-key lo-fi album in 2018 called When It Ends. It was the start of a beautiful friendship, and they've now made four albums in three years. Their brand of cosy folk-pop comes with heavenly harmonies and subtle instrumentation. The result is gently revealing.
emmarussacklachlandenton.bandcamp.com /// instagram.com/emmarussack/ ///
instagram.com/lachlandentonfurnishings/
---
Gefördert von: Der Beauftragten der Bundesregierung für Kultur und Medien ("BKM") und der Initiative Musik.

fb event: https://www.facebook.com/events/1062068354514004/